For it is by grace you have been saved, through faith—and this is not from yourselves, it is the gift of God—not by works, so that no one can boast. For we are God's handiwork, created in Christ Jesus to do good works, which God prepared in advance for us to do." - Ephesians 2:8-10
Serving God is a phase of a believer's life that demonstrates a level of maturity in one's faith. We cannot be saved by good works but we can be saved to do good works.
How much we understand and actively accept love from God is shown by how much we actively express our love for God. He does not call all of us into His family only to have us dwell in His presence happily ever after. God desires us to use our abilities and gifts wherever He has placed us, and this is a good platform to practice obedience to Christ.
If you're a believer and hear God urging you on towards love and good deeds, come and explore the myriad of projects and areas of service within JCC. We'd like to find a good fit for you where your talents are most needed.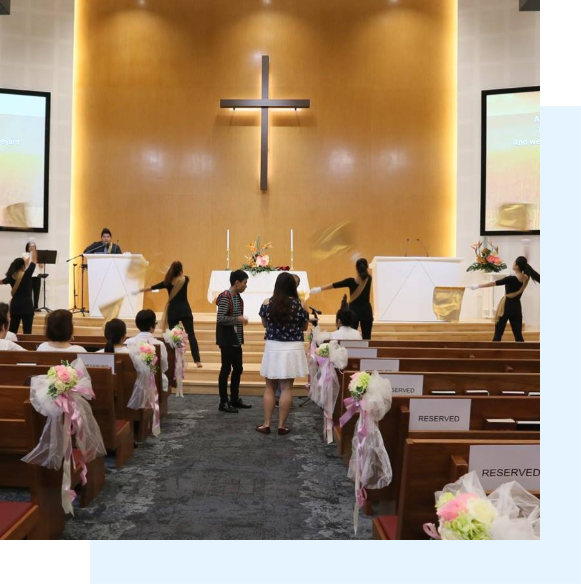 The local community is becoming more isolated despite Covid-19 laxations. Come and reach the unreached.
Beyond the shores of Singapore awaits the nations for the good news. Who will go and how will we reach them?
Worship & Sanctuary Server
Worship and the arrangement of service itself calls for a music team, bible readers, flower arrangers and ushers too.
JCC supports Yuhua Sec and Shuqun Pri in these Christian-based CCAs with weekly activities.
The latest arm that supports JCC, the team comprises people skilled in ICT, IT, social media, graphic design, writing and more.
This team enjoys writing, editing, photography, videography, graphic design and other creative expressions.
The battle for people's hearts and minds begin with us. We can't win them to Christ if we don't lift them to Christ.
If you'd like to contribute monetarily, your donations are welcome to keep our non-profit and God's work afloat.