Life's Disruptions, Do We Understand?

My mother-in-law celebrated her 91st birthday on 12th November 2022. It was a joyous occasion, with all of her family gathered around her. Even her granddaughter from the UK had come back to celebrate. Plans were being made to celebrate Christmas at one of the homes and booking 2 tables in a restaurant to have a CNY Eve family reunion dinner.
Unexpectedly, just two weeks later at 3 a.m. on 30th November 2022, she suddenly fell ill. We received an urgent call from her maid.  After frantically calling around and finally finding an ambulance, we took a taxi and rushed down to her house at Kim Tian Road, just in time to meet the ambulance at the lobby.
The ambulance sped her to the hospital emergency room, while we followed in another taxi.  At that time in the morning, traffic was light.  The hospital initially said that there was no bed in ICU for her but later confirmed that there was indeed a bed available.  Her heart specialist arrived very shortly.  It was confirmed that she had suffered a Urinary Tract Infection (UTI) and she was given medication to treat it.  She seemed to respond to the medication and was sitting up after about 2 days in ICU.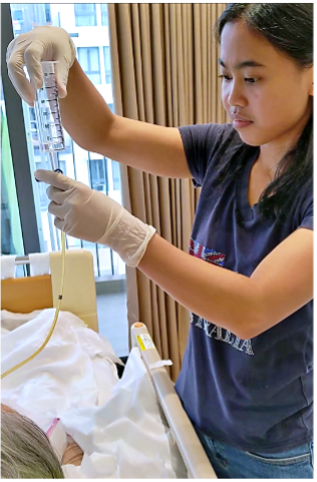 Suddenly, her condition worsened and she went into a semi-conscious state.  She remained in ICU for 3 months and later moved to a normal ward for about 1 month before we decided to bring her home, where she lived another month.  The maid stayed with her in the ICU and managed to learn some of the home care procedures, like tube feeding, changing diapers, providing oxygen and cleaning her.  Without the maid, we probably could not have brought her home.
My wife Joo See and I visited her almost every day.  Joo See would sing to her some Hokkien worship songs at her ICU bedside, while I hummed along.  Some of the nurses were curious about the songs because they could not understand the language but eventually, they realized that we were Christians, as some of them were also.
We prayed for her constantly, both at the hospital and at home.  We also anointed her with anointing oil.  We struggled, like Habakkuk 1:2a, "How long, Lord, must I call for help, but you do not listen?"
Out of 150 Psalms, 64 are laments. The emotions of the psalmist resonated with us.  "How long, Lord? Will you forget me forever? How long will you hide your face from me?" (Psalm 13:1) and "How long, Lord God Almighty, will your anger smoulder against the prayers of your people?" (Psalm 80:4)
In the beginning we prayed for healing. We believe that God can heal and we hoped that she would recover and be back to normal. However, as time went on and her condition did not improve, we started to pray for God's will to be done. We knew that God loved her, and we trusted that He would take care of her. He had a plan for her life, even if we didn't understand it. We also knew that God loved us, and that He would be with us through this difficult time.
There were times when we felt hopeful. Although she could not talk because of a tracheotomy, she opened her eyes occasionally and moved her hands or legs. We took it as a sign that God was at work to restore her health.
Finally, she passed away at 4 a.m. on 8th May 2023. Grief-stricken, but we know that she is in a better place.
With advice and assistance from her pastor, we managed to book a hall in the Church of the Holy Spirit at Upper Thomson Road to hold the wake services.  It was a convenient location with the TEL MRT station just beside it.
The maid's story is the only highlight to this tale.  At around 4 am in the morning, she was awakened by a voice calling her name 2 times.  She opened her eyes and saw that it was only 4 am and went back to sleep but she heard her name being called again.  This time she woke up and went to call on my sister-in-law who was staying with her that particular night.  Both of them went to look at my mother-in-law and witness her drawing her last breath and peacefully passing on.  We are thankful that my mother-in-law died peacefully.
My mother-in-law's health crisis had been a 5-month disruption to our lives. What is God's purpose in all this? I don't have the answer, perhaps it was to strengthen family ties as we kept meeting each other daily for these 5 months.
In the midst of such a huge disruption, it is easy to lose sight of hope.  However, we turn to God's Word for it is the Truth.
"Now faith is the assurance of things hoped for, the conviction of things not seen." (Hebrews 11:1)