Compassion: Bringing Light Into Darkness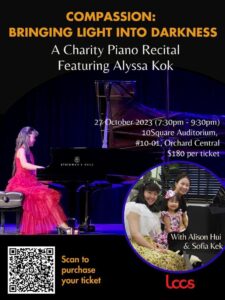 Music connects and music heals. Lutheran Community Care Services (LCCS) will be having a piano charity recital on 27 October 2023.
Alyssa is an award-winning Singaporean classical pianist and historical keyboardist.
This year, at age 20, Alyssa obtained her Master of Arts degree in piano performance with distinction.
A winner of 30 top prizes in international piano competitions, she has performed in concert extensively in Europe, North America, Israel and Asia.
Being true to her motto of "making the world a better place", Alyssa had initiated charity projects through classical music in Israel, Singapore and Malaysia. She will also be playing two duet pieces with a Singaporean cellist, Ms Alison Hui, and joined by a 4 year-old child, Sofia Kek on the piano.
The price for 1 ticket is $180 (eligible for tax deduction relief).
Thank you for supporting LCCS' work to turn lives around through relationships.