Manna Bridge Neighbourhood Party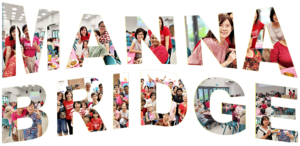 It was Manna Bridge Party time on Saturday, the twelfth of August in JCC!
We give thanks to God for this gathering that we organised for the residents in the neighbourhood of JCC. It was a great fellowship with a pot-blessing meal. Many of us didn't know what foods the participants would bring to share. As it turned out, it was a delightful spread of dishes on the table for everyone to enjoy with some residents happily showcasing their culinary specialities.
It was not just the eating that was enjoyable. Pleasing to us was the fact that more and more residents have come to know us through our Manna Bridge and getting more active in involvement in our activities.
We pray for continuing opportunities to deepen our friendship with them, to pray for them and assist them in their needs in whatever ways we can.
We thank God as well for opening welcoming doors for us to reach out to the spiritual needs of our neighbours. We continue to send forth labourers to share testimonies about God's love and His blessings, for the gospel seeds to be sown into the hearts of people who, with God's leading, have turned from passivity to active listeners.
In the Bible, manna is food that God provided for the Israelites during their journey in the wilderness. Our Manna Bridge is an important link between us and the community in Taman Jurong. Across the Manna Bridge, we distribute manna (food) to meet physical hunger needs. Though we are thankful for the life-sustaining food that we have, to satisfy physical hunger, we are also reminded of God's provision and care for His people who have spiritual hunger. So, we continue to keep both the physical and spiritual needs of the community in our prayer, that God will bless them abundantly.
It was truly an encouragement for us to be able to welcome the large number of our neighbours to the church. This is possible with the keen involvement of JCCians in the Manna Bridge outreach to the community, in which we go first to them, get them and us to know each other better while we are still "strangers", and then grow our friendship with the grace of God in answering our prayers.
We continue to share with our neighbours the love of Jesus Christ that motivates our love for them.
John Lee
P.S.
Our photographer, Zheng Lin, was at the event. He shares the following thoughts about it:
"I was grateful that the residents from around the church accepted our invitation to join us for lunch and fellowship. It was a great opportunity for us to get to know one another better.
Each of the residents was invited to bring a dish that they liked, and we could share it with one another. The term "potbless" aptly conveys the feeling that it was such a blessing that we were able to enjoy a feast of shared dishes at one place, flavoured with friendship.
In addition to the yummy food, we also had games and testimony sharing. The testimony sharing by Mani was particularly touching, and it was clear that he has a deep love for God.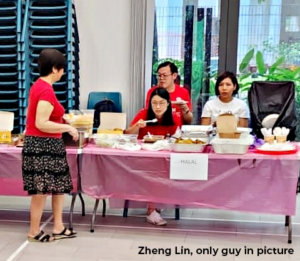 The interactions between the residents and our church members went really well, and it was not just at the same table. Many church members also moved around different tables to build bridges with different residents.
At the end of the session, we were all fully filled, not just with the food but also with hope and joy, knowing that we had made new friends and created good memories.
We are looking forward to the next potbless event, which will be held in December (during the Christmas season). We hope to continue to reach out to the residents and build strong relationships with them."